A national treasure is gone. Singer, actress, animal rights activist Doris Day passed away last week at the amazing age of ninety-seven from complications of pneumonia. Word of her death, in her hometown of Carmel, California came from her charity, the Doris Day Animal Foundation, a cause that had been her passion for much of her life.
I'm not going to present a long bio here; you can find that in any one of countless publications acknowledging her passing. But it is important for me to mention it, because Doris Day, the "girl next door," was my biggest celebrity crush when I was just a kid—yeah, me and a gazillion other young guys. I cherish many of her lighthearted movies and will continue to watch them until the Mother Ship comes for me, a long time from now.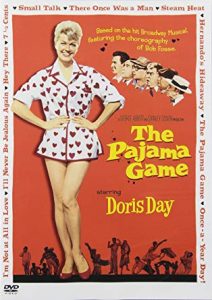 But I do want to mention my two favorite Doris Day films. The first, The Pajama Game (1957) was based on the Broadway musical of the same name. I usually re-play her rendition of "I'm Not at All in Love" two or three times before moving on. She and John Raitt are great together.
The other is the 1956 thriller, The Man Who Knew Too Much, directed by Alfred Hitchcock. She is excellent in this suspenseful story, co-starring James Stewart, and even though it is not a musical, she manages to belt out a couple of numbers in her role as a retired singer. One of those songs, "Que Sera, Sera (Whatever Will Be, Will Be)" won an Oscar for Best Original Song and became Doris Day's signature number.
Rest well, Doris Mary Ann Kappelhoff. You brought much joy to countless people.