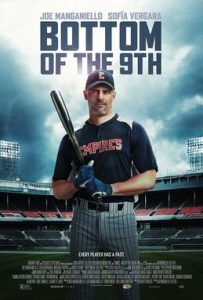 The 2019 drama, Bottom of the 9th, initially drew me in for two reasons. First, it's a baseball movie, and if I haven't seen every single one ever made, I'm pretty close. Second, much of it takes place in The Bronx, where I spent the first 21 years of my life. But ultimately, this powerful tale of redemption kept me engrossed from beginning to end.
EVERY PLAYER HAS A PAST
With that tagline, here is a brief overview. The "player" is a man named Sonny Stano (Joe Manganiello), who at age 38 is about to be paroled from Sing Sing prison. Actually, he never did get to be a player, even though the New York Yankees had signed him to a contract and were close to calling him up. Seventeen years earlier Sonny had gotten into a fight with a punk who was hassling him. The kid fell, struck his head, and died. Sonny paid the price with a charge of manslaughter.
Returning to his late mom's apartment in The Bronx, Sonny encounters a variety of reactions to his presence in the neighborhood. He tries to apologize to the mother of the kid who died, but she screams at him to get lost. Worse, the kid's brother threatens him twice, which will set up a confrontation the third time their paths cross. And the parole officer assigned to Sonny is a hard-ass. Screw up once, he tells Sonny, and it's back to Sing Sing.
But a friend of Sonny's, whose letter to the parole board helped spring him, gives him a job. And his old girlfriend, Angela Ramirez (Sofia Vergara), now a single mom, eases back into his life, despite his reluctance to restart a relationship.
Among his many regrets, Sonny is bitter about losing his promising baseball career. This is amplified when a former colleague, now the manager of the Staten Island Empires—a Yankees farm team—shows up and offers Sonny a consulting and/or coaching gig. Sonny angrily dismisses him.
BASEBALL IS IN THE BLOOD
Sonny's menial job finally gets the best of him. He shows up at the ballpark on Staten Island, where the manager assigns him a single task: work with a young player named Manny, a talented but difficult kid. He's full of himself and doesn't want to listen to anything the "old guy" has to tell him. That, of course, will change.
A veteran Yankees pitcher named Peterson (former Giants closer Brian Wilson; Fear the Beard!) is on a rehab assignment with the Empires and is pitching batting practice to Manny, who ignores Sonny when he tells the kid how to hit Peterson's telegraphed pitches. Manny swings and misses every pitch. Pissed off by the kid's indifference and Peterson's snarky attitude, Sonny grabs a bat for the first time in years and slams Peterson's pitches all over the park. This impresses the heck out of the Empires' manager and coaching staff. It also makes an enemy for Sonny in Peterson, which will play out big-time near the end of the film.
Sonny's performance generates an offer to play professional baseball again. At age 38, crazy as it seems, Sonny Stano dons the uniform of the Empires. Do well, they tell him, and he may even be called up to the Yankees.
I won't say much more, other than the stage is set for a lot of conflict. After a nasty newspaper article details Sonny's story, the verbal abuse from fans in the stands is palpable. How will he deal with that? How will he deal with the threats from the brother of the kid he killed? Can he still have a relationship with Angela, or will he continue to push her away? The road to redemption is not an easy one.
Like the game of baseball itself, Bottom of the 9th is a slow-paced film. For me, that worked just fine. It is currently available on Prime Video (free with subscription). Whether or not you're into baseball, I recommend it.