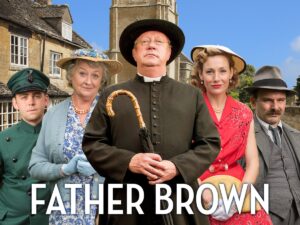 Despite our affection for British mysteries, my bride and I had passed on Father Brown for quite some time. I mean, a Catholic priest who acts as an amateur sleuth, solving all manner of crimes, mostly murders? It just didn't sound like our cup of Earl Grey. Wow, were we wrong! The series, with one hundred episodes (and counting), is now one of our favorites.
A PROLIFIC WRITER
The Father Brown series, which first aired in 2013, is based on the stories of British author G.K. Chesterton (1874-1936). During his career Chesterton wrote eighty books, hundreds of poems, 4,000 essays, and around two hundred short stories, fifty-three of which were about his most memorable creation, Father Brown. This writer stayed quite busy during his time on this plane of existence.
By Chesterton's own account Father Brown (no first name) was short and stumpy, with shapeless clothes and a ubiquitous umbrella always at hand. He solves mysteries via intuition and a sharp understanding of human nature—with an uncanny insight into human evil. The writer actually based him on a parish priest who assisted in his conversion to Catholicism.
Prior to the current series, Father Brown made a number of appearances on the large and small screens. Father Brown, Detective, an American film, appeared in 1934. A 1954 British mystery/comedy film titled Father Brown starred the great Alec Guinness (Obi-Wan Kenobi!). Pater Brown (1966) was a TV series in Germany. And a British TV series titled Father Brown ran for one season in 1974.
THE HARRY POTTER CONNECTION
The current series stars Mark Williams as the title character. I thought he looked familiar, and some quick research revealed that he had played Arthur Weasley, father of Ron and Ginny, in many of the Harry Potter films. Cool!
But these days I can only think of him as Father Brown, parish priest at St. Mary's Catholic Church in Kembleford, a fictional village in England's stunning Cotswolds region—a village that, considering there are one hundred episodes, has a disproportionate number of murders. (Although some are farmed out to a few neighboring villages.) Like Chesterton's creation—and his predecessors—Father Brown is a warm, empathetic man with an incredibly sharp mind. He served in the military in World War I (the series takes place in the early 1950s, post-World War II), his experiences enabling him to have much insight into human nature. As a priest he can offer forgiveness and redemption to even the worst offender. He does not judge, and he takes a criminal's confession seriously, though he does urge them to fess up to their crimes and accept responsibility.
A STRONG SUPPORTING CAST
Father Brown's right-hand woman, Bridgette McCarthy, is the parish secretary, and oftentimes keeps the forgetful priest on the straight and narrow, especially when he is involved in working on a case. She denies being the village busybody—which she is—but is fiercely loyal to Father Brown and makes sure he is well fed.
Other regulars/semi-regulars who assist in his investigations include socialite Felicia Montague, her niece, Bunty, and Sid Carter, a former criminal who alternately works for Felicia and for Father Brown. Also, a fascinating character, Hercule Flambeau, an international jewel and art thief right out of Chesterton's first Father Brown story, The Blue Cross. The priest's nemesis—and sometimes colleague, if you can believe it—Flambeau appears in at least one episode a season, with the theft usually involving a priceless religious artifact.
As it is with most amateur sleuths, they always tend to piss off the local constabulary, especially since they're usually wrong and Father Brown is usually right. Such is the case in Kembleford, first with Inspector Valentine (2013-14), then Inspector Sullivan (2014-15). Both of these cops, who leave the village for more prestigious positions, will come to respect the priest, and will even seek his help when they reappear in later episodes.
Not so Inspector Mallory (2016-present), a blustery, angry little turd who sarcastically calls Father Brown "Padre" and is always in his face, even after the priest solves the crime—or, for crying out loud, saves his life. I keep waiting for him to mellow. Fortunately, Father Brown has an ally at the police station in the aptly named, kindly Sgt. Goodfellow.
We recently watched the one hundredth episode, which led to both of us going "waaaaaaaaa!" Yeah, we enjoyed it that much. The good news is, a tenth season of Father Brown is currently in production and will premiere on BritBox in early 2023. And there is even a spinoff, the Sister Boniface Mysteries, with a character from one of the early Father Brown episodes. The moped-riding nun, in addition to her religious duties, is a winemaker, and she a PhD in forensic science, which proves invaluable to the local cops in her role as scientific advisor. We just watched the delightful first season and were pleased to learn that a second season is forthcoming. Let's hear it for British mysteries!!!