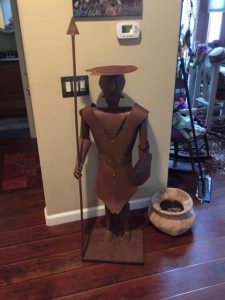 With seven-plus decades in the rearview mirror I've had plenty of time to collect a whole lot of "stuff." Here is a look at some more "Curious Possessions" floating around my domicile.
TILTING AT WINDMILLS
I have a huge collection of Don Quixote "stuff." The largest piece, about four feet tall, is fabricated from sheet metal and stands in our hallway near the front door. We found the knight errant at a Pueblo flea market near Santa Fe, New Mexico.
Funny story: my bride, Jacqueline, got caught up in my DQ passion early in our relationship. When she spotted this particular one she just about freaked, and she shouted something like, "Mikey, we've GOT to have this!" I looked at the vendor, who had a big grin on his face, and said, "Guess we've lost all the bargaining power."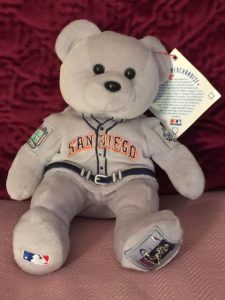 He gave us a break anyway, and a week later he shipped it to us in San Diego. My bride learned a good lesson in flea market etiquette, and we got a great prize.
REMEMBERING TONY
I have tons of San Diego Padres memorabilia, much of it representing one of the greatest ballplayers—and human beings—ever: Tony Gwynn. This Beanie Baby, which bears (pun intended) Tony's name and number on its back, is probably worth a chunk of change, given it still has its original tags. But I'll never part with it.
A few more Curious Possessions are noted below. Having been retired for a few years, and currently sheltering in place, I get to enjoy looking at them every day. Let's hear it for simple pleasures!